Preface
Xu Yingxuan, a renowned landscape painter in China, is one of the representative artists of landscape paintings of Zhe School. His artworks are fresh, elegant and serene. Some of his brushstrokes are fine and smooth, while some are majestic. The details are delicate, and the whole image is well arranged. He delved into the art history of Chinese paintings, and spent six years to write Brief History of Chinese Landscape Paintings. He is a scholar with both "sound knowledge" and "fine practices".
Meanwhile, he is also a "Ningbonese" who loves his hometown and generously provides treasure to hometown. He once donated his artworks to Ningbo Museum of Art free of charge for three times. Currently NMA has collected 25 Chinese landscape paintings of Xu Yinghuai, including masterpieces like Ancient Tiantong Temple in Ningbo, Village in Yandang Mountain, Rafting by Red Cliff and Hukou Waterfalls. Here, the curator presents his paintings through four categories: "wonderful mountains", "cliffs and waterfalls", "summer and autumn", "homeland sceneries". We hope you could get to know the artist through his artworks and experience the atmosphere conveyed in his landscape paintings.
Xu Yinghuai is a true intellectual who shoulders moral principles and creates excellent writings – he has sentiments of scholars in true sense. It seems that he has inherent and inescapable sense of responsibility towards Chinese paintings and Chinese culture which he doesn't want to shirk.
By Cao Gonghua, Concealing and Correcting Rhetoric – My Opinions on Xu Yinghuai's Art Theories and Paintings
About the artist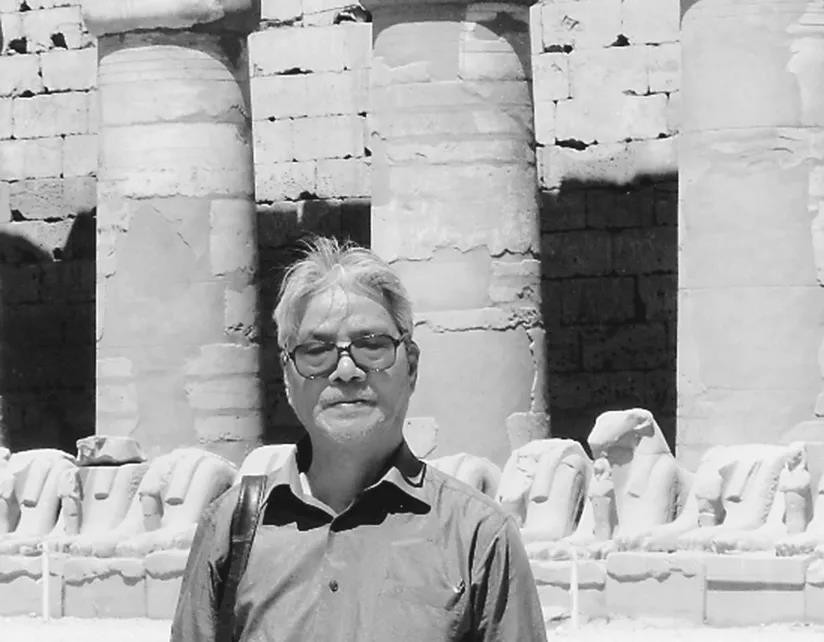 Xu Yinghuai (1937 – ), born in Yin county in Ningbo, Zhejiang province, is good at Chinese paintings. He graduated from School of Chinese Painting of Zhejiang Academy of Art, majoring in landscape paintings in 1963. Since 1965, he has been engaged in landscape painting creations. He was once a member of Zhejiang Two Rivers (Xin'an River and Fuchun River) Creation Group, a member of Zhejiang People's Fine Arts Publishing House Creation Group, a member of China Artists Association and a first-class artist of Zhejiang Painting Academy. He enjoys State Council special allowances. He has published theoretical writings Brief History of Chinese Landscape Paintings, as well as painting albums including Xu Yinghuai Landscape Painting Collection, Xu Yinghuai Landscape Painting Selection, Xu Yinghuai Landscape Collection, Landscape Painter Dong Yuan, and Streams and Waterfalls.
Wonderful Mountains
Artist Xu Yinghuai, who lives in the moment, delves deep into the art theories and history of all Chinese dynasties. He has read thousands of books, and travelled thousands of miles. His footprints reach numerous wonderful mountains in China. He painted those spectacular sceneries, including Mount Jiuhua and Mount Huang in southern Anhui province, Fuchun Mountains in northern Zhejiang province and Yandang Mountain in southeastern Zhejiang province.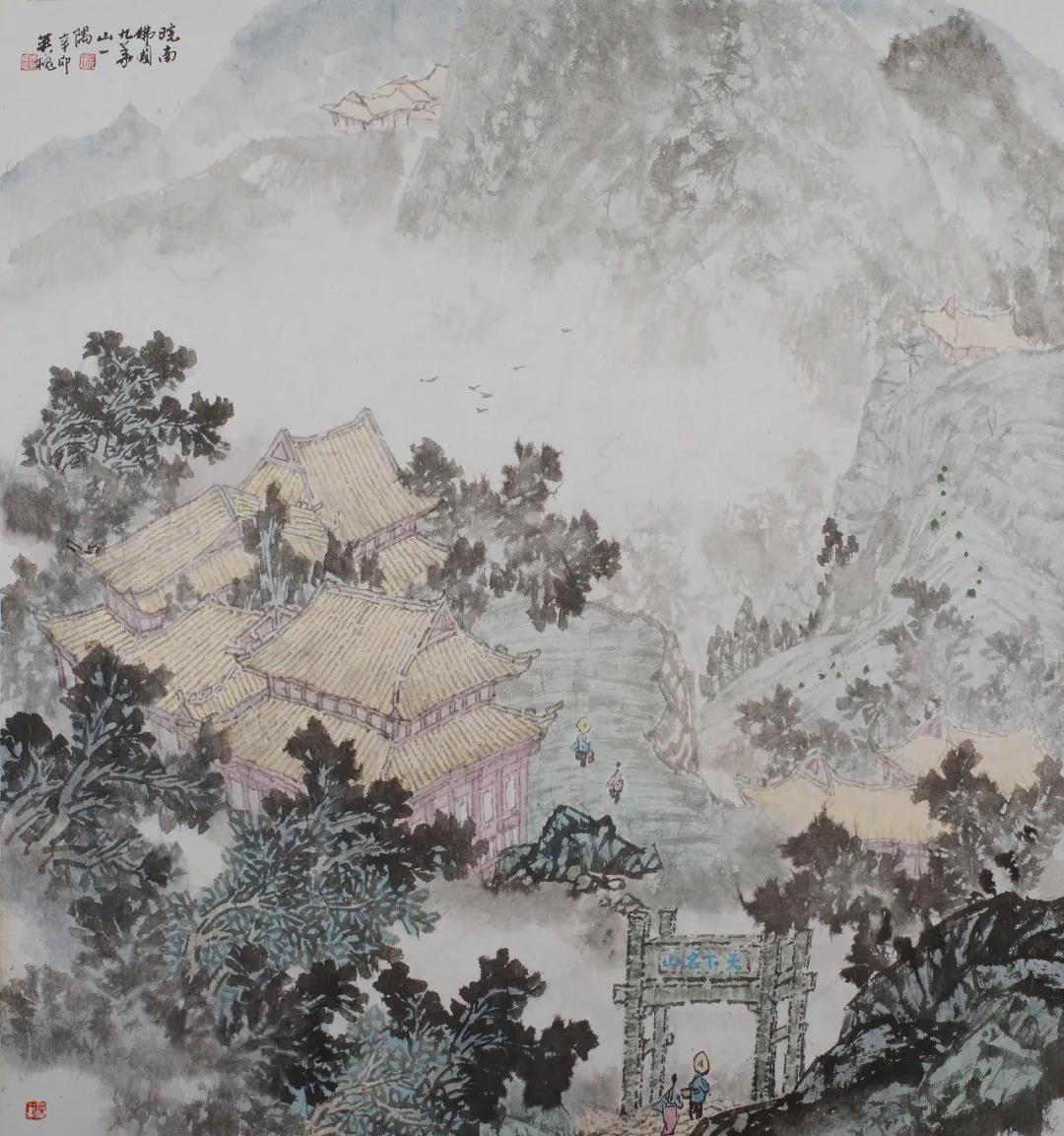 Corner of Mount Jiuhua, 71×75cm, Chinese painting, 2011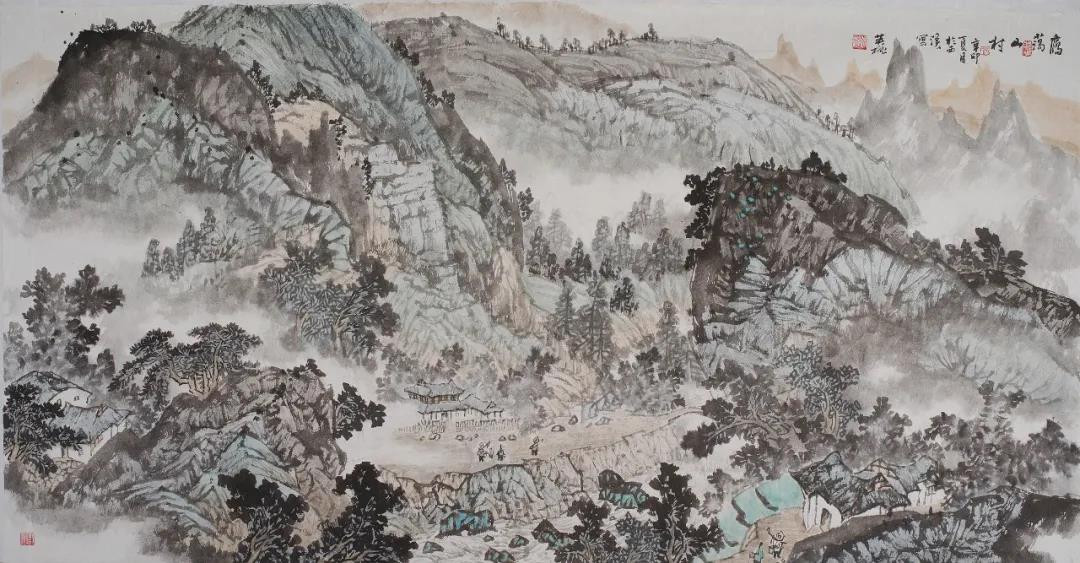 Village in Yandang Mountain, 147×76cm, Chinese painting, 2011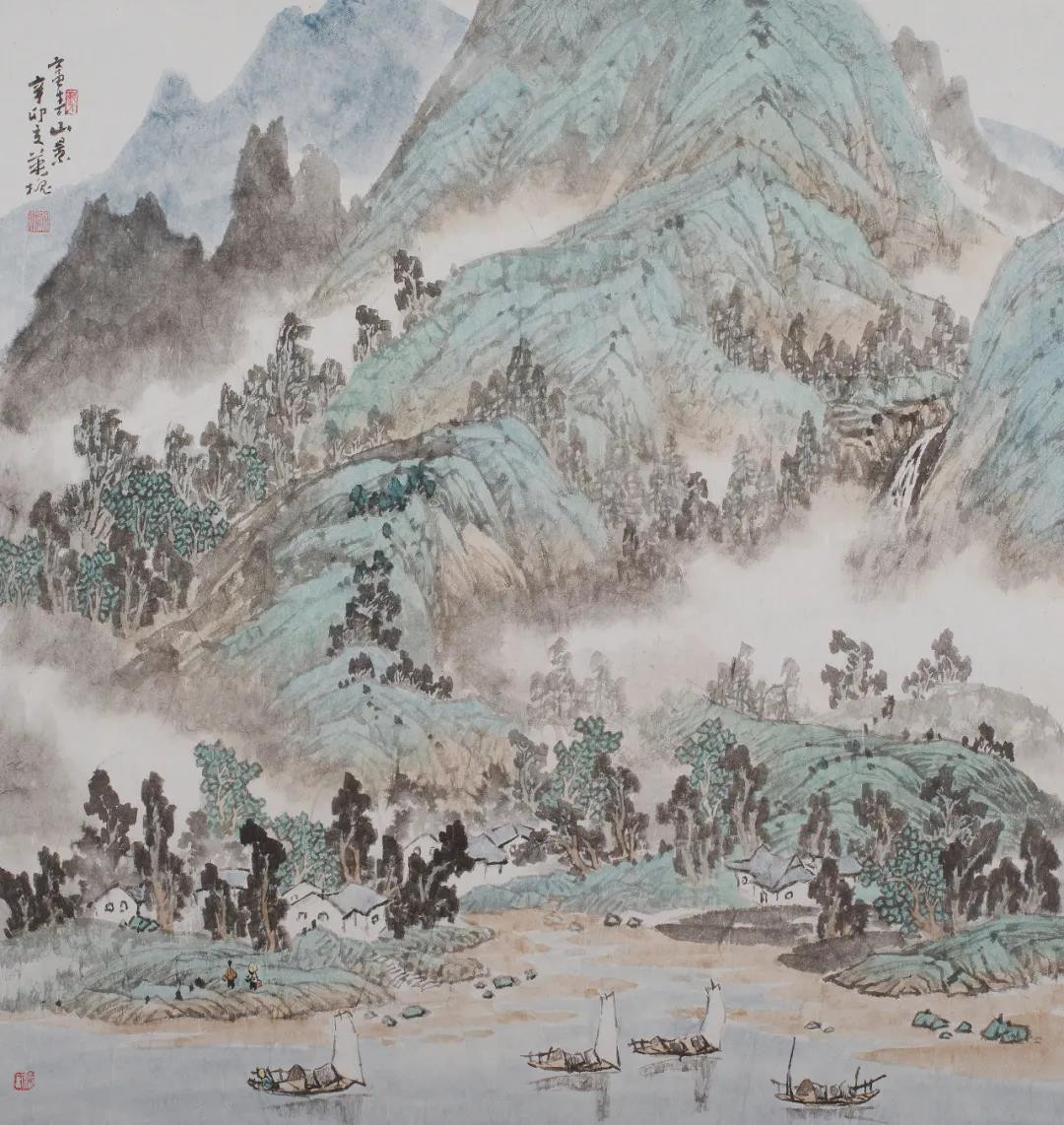 Sceneries in Fuchun Mountains, 70×75cm, Chinese painting, 2011

Mount Huang Trail, 410×146cm, Chinese painting, 2012
Cliffs and Waterfalls
From 2006 to 2012, the artist created a series of large paintings which portrayed rivers, canyons, cliffs, waterfalls and other natural sceneries. The huge size of nearly 2m×5m reflects his ability of creating large paintings and profound artistic foundation.
China is a country of poems. With solid foundation in literature, Xu Yinghuai creates poetic images and conception.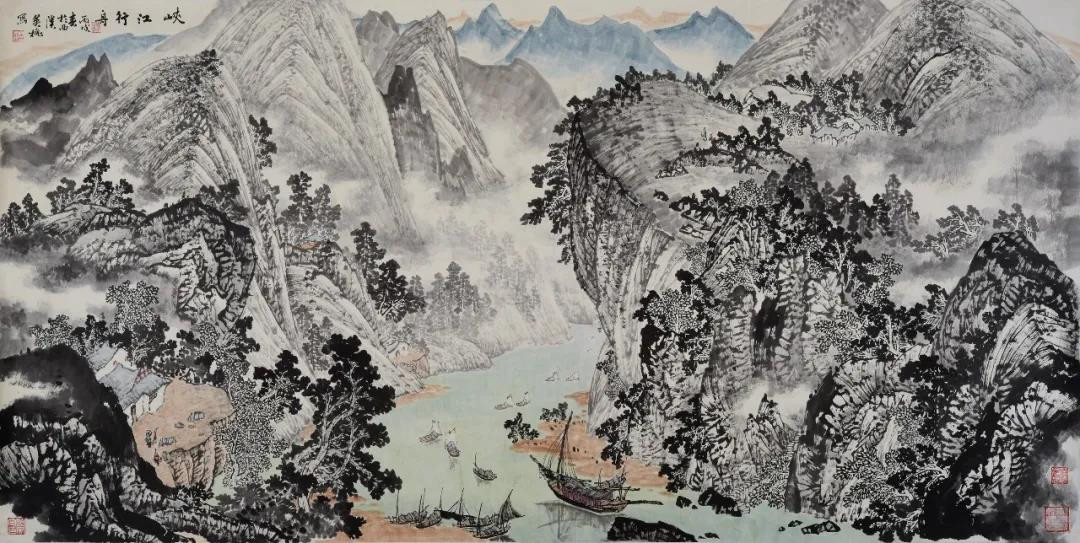 Sailing along Yangtze Three Gorges, 124×244cm, Chinese painting, 2006

Visiting Three Gorges, 195×497cm, Chinese painting, 2011

Hukou Waterfalls, 195×497cm, Chinese painting, 2011

Rafting by Red Cliff, 195×497cm, Chinese painting, 2012

Xiaolongqiu Waterfall in Yandang Mountain, 410×146cm, Chinese painting, 2012
Summer and Autumn
Seasons change and summer succeeds spring. The world is covered in green. The scattered temples seem to be clean and comfortable in shades of green. In early autumn, maple trees put on red coats. Covering the whole mountain, yellow leaves and red maple leaves look stunning. As late autumn comes, coldness steps close. Red maple leaves and yellow leaves wither and fall. But the coniferous forest brings out profound and serene green to autumn mountains… These are sceneries in Xu Yinghuai's paintings.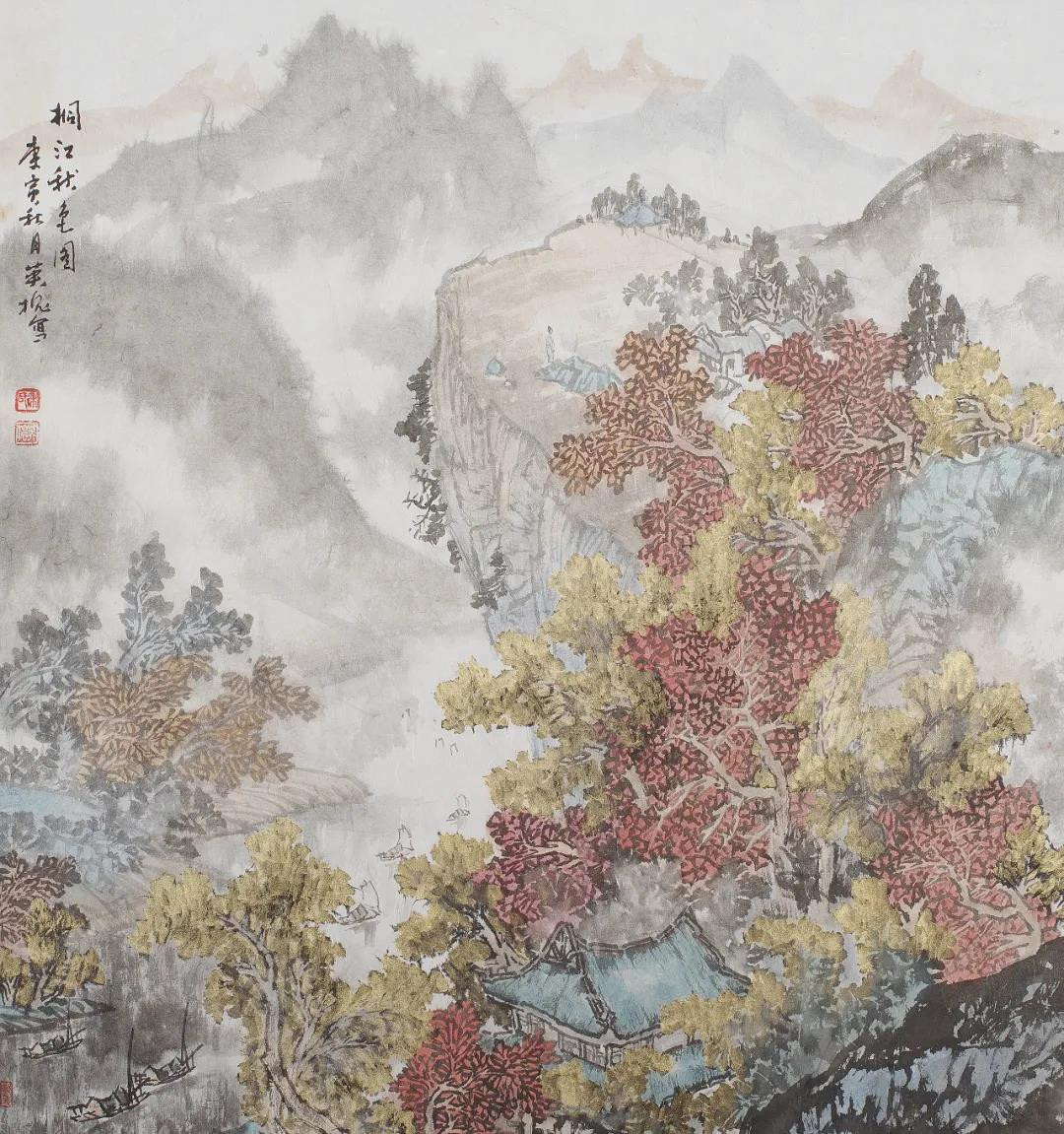 Tong River in Autumn, 70×76cm, Chinese painting, 2010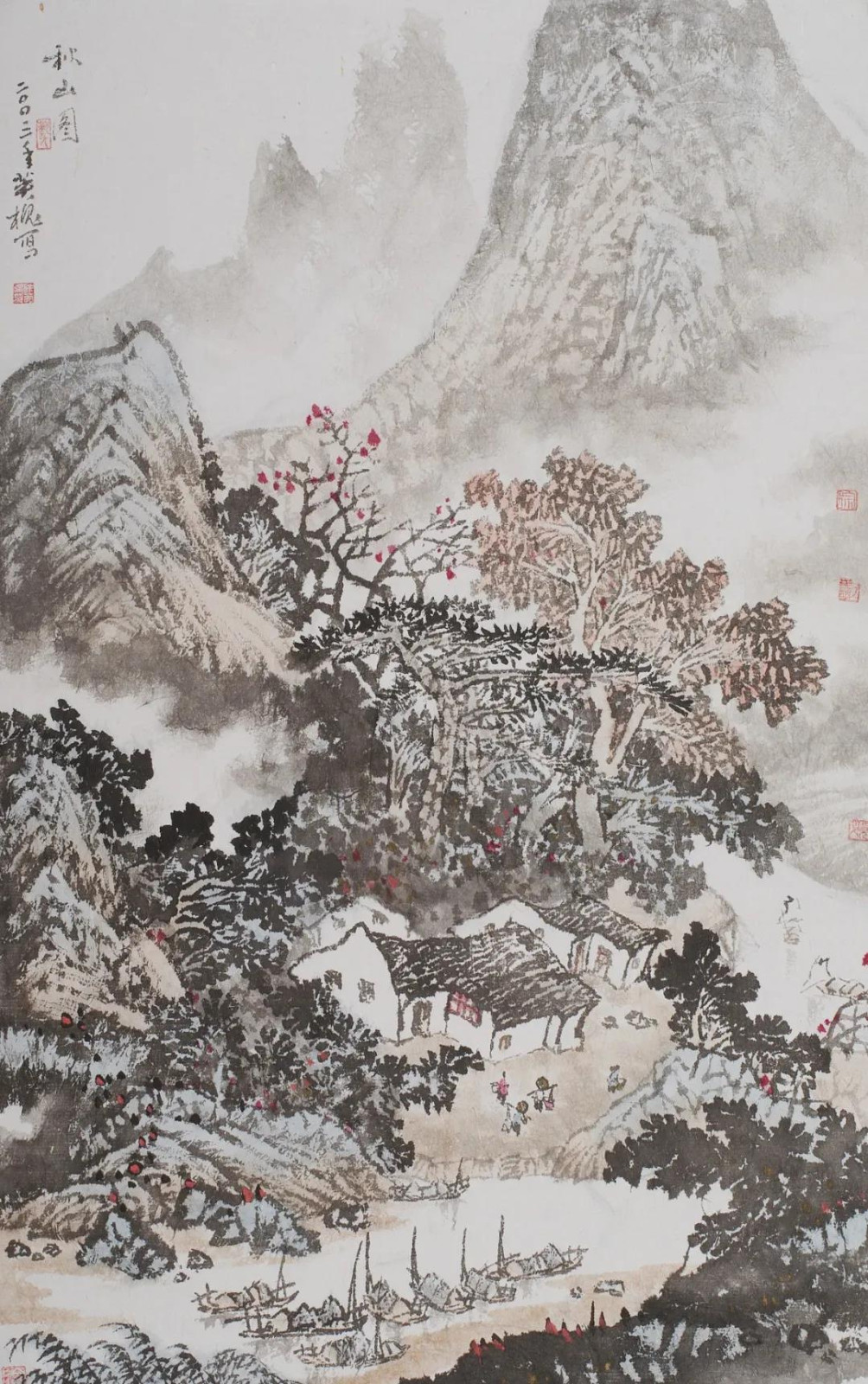 Mountains in Autumn, 47×75cm, Chinese painting, 2003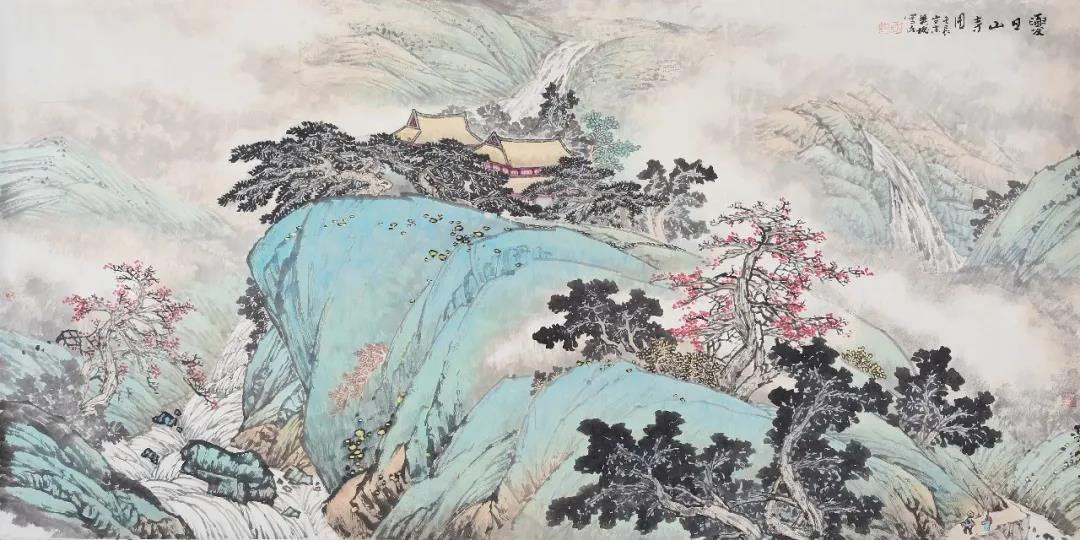 Mountain Temple in Summer, 124×244cm, Chinese painting, 2012
Homeland Sceneries
With strong homesickness to Ningbo, the artist, Xu Yinghuai, constantly recall his memories of Ningbo and put them into paintings. With rich brushstrokes, color and spacing, he painted sceneries of his hometown, including Temple of King Asoka, Tiantong Temple and Dongqian Lake. Even humid air was craftily and exquisitely painted. An elegant and graceful Ningbo which is the birthplace of many outstanding people is clearly reflected under his brushstrokes. The landscape paintings, soaked with his strong affection towards homeland, provide the audience with an immersive experience of visiting this fantastic land.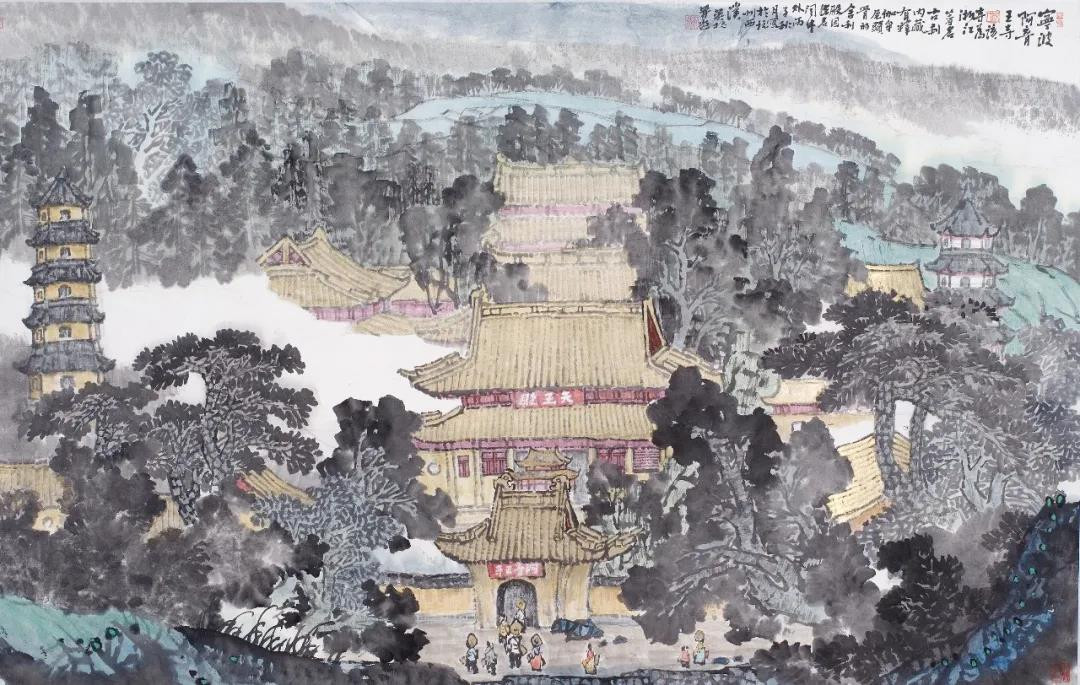 Temple of King Asoka in Ningbo, 106.5×68cm, Chinese painting, 1996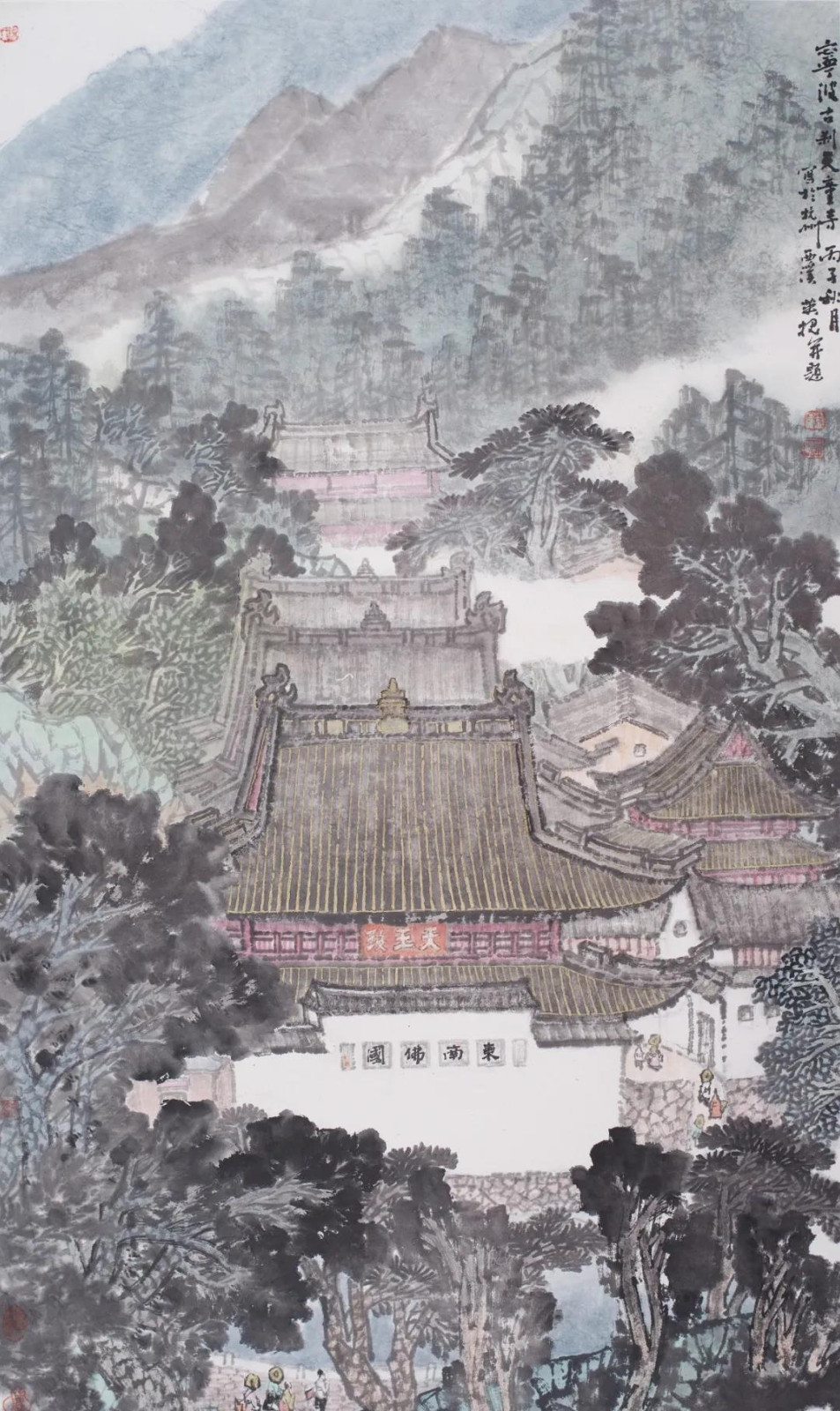 Ancient Tiantong Temple in Ningbo, 64.5×107.5cm, Chinese painting, 1996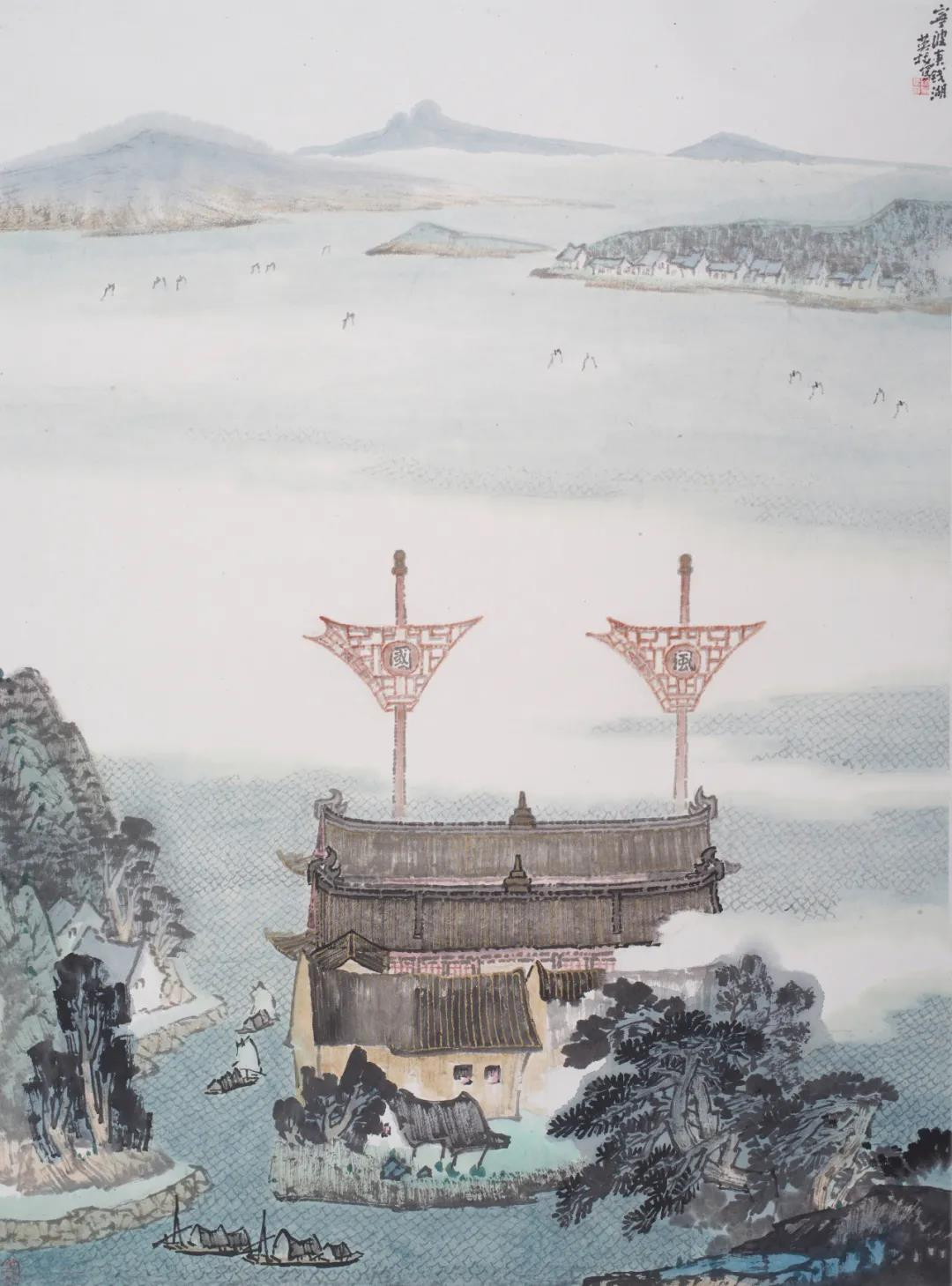 Dongqian Lake in Ningbo, 62×84cm, Chinese painting, unknown year of creation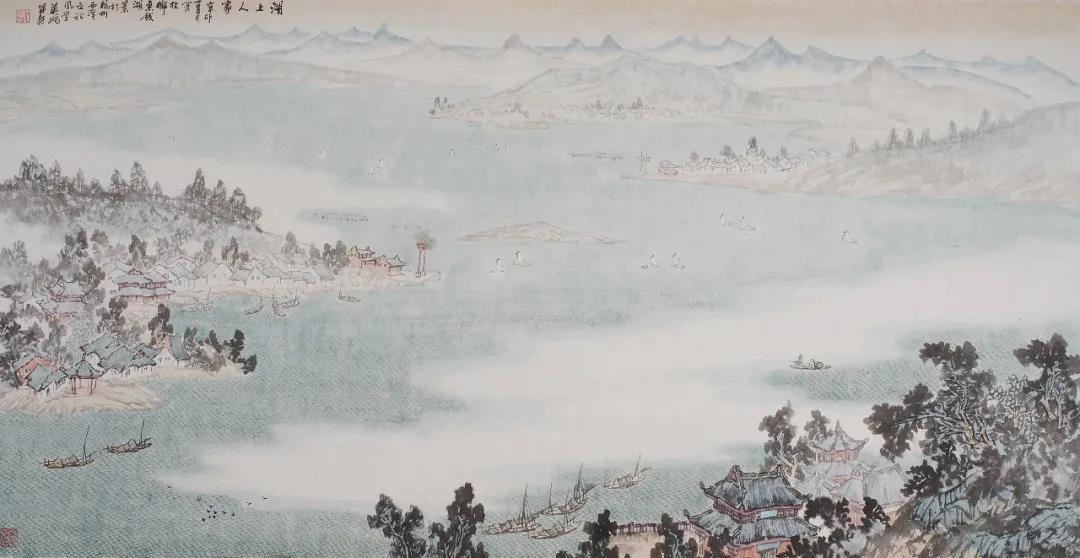 Home on Lake, 147×76cm, Chinese painting, 2011
Notes:
Unauthorized reproduction is prohibited.
Unauthorized usage of NMA photos and pictures is prohibited.
Translated by: Fan Xinyi