Ningbo art circle was apalled to learn that Mr. Wu Yongliang passed away on May 25th. His death is a great sorrow to us. Mr. Wu devoted his life to the development of Chinese paintings, especially the heritance and promotion of Zhe School paintings. Like a shining star, he lit the light for the hearts searching in the dark and numerous events in the art circle. In his later years, he donated several artworks to Ningbo Museum of Art, which have become precious collections of NMA. They add cultural splendor to Ningbo and provide indispensable creation models for artists today and in the future. With this article, we hope to express our respect and condolences to Mr. Wu.
Han Licheng
1 June, 2020
About the Artist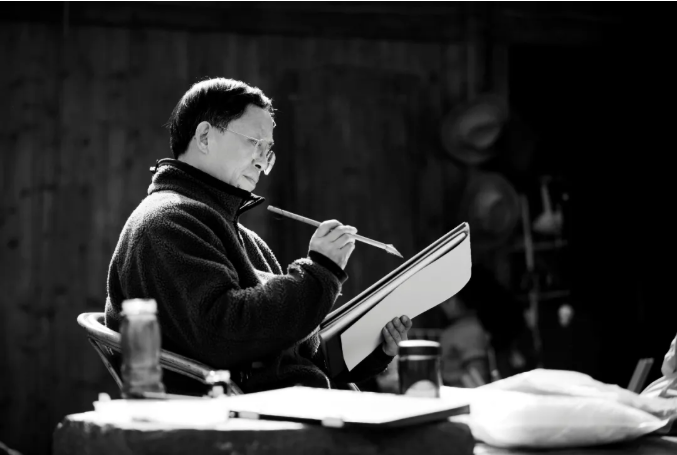 Wu Yongliang (1937.11-2020.5.25)
Wu was born in Yin County in Ningbo, Zhejiang province. In 1957, he entered School of Chinese Painting of The East China Branch of the Central Academy of Fine Arts and learnt from famous artists, including Pan Tianshou, Zhou Changgu and Li Zhengjian. He stayed at his alma mater as a teacher after graduating from master courses in 1980. He retired in 1998, after which he continued his creation and experiments on collisions of the traditional Chinese paintings and exotic art while travelling to many places, such as Southeast Asia, Europe and America. He devoted his life in the creation, research and education of Chinese freehand figure paintings. He enjoyed government special allowance.
Wu Yongliang, born in Ningbo, is a renowned figure painting artist of Zhe School. He was specialized in freehand ink figure paintings and finger paintings. Among successors of Zhe School figure paintings, he was the one with highest seniority. He pioneered in the education and creation of figure line drawings.
Though we knew Ningbo was Mr. Wu's hometown long ago, we acquainted him until the year of 2015. At the end of 2015, we planned to build a Wu Yongliang Art Gallery with few collections of Mr. Wu. Learning the news, Mr. Wu donated 35 artworks to us immediately. Later, he donated collection albums, monographs, article scripts and major photos of his life in order to enrich the Gallery exhibits and to extend and explore the researches of collections. Thus the collections of Mr. Wu at NMA are abundant. In October 2016, after a year's preparation, Wu Yongliang Art Gallery opened to public. Mr. Wu attended the opening ceremony with his family. Meanwhile, Mr. Wu also served as a member of consulting expert panel of NMA Art Committee. He was not reluctant to share what he knew whenever we sought for his advice on our business. He contributed a lot and shared numerous suggestions to the development of the art museum at his hometown.
These collections are donated by Mr. Wu to the art gallery, including figure paintings of celebrities, children and poets which he was good at, as well as less-exhibited figure sketches, landscape sketches and folk custom sketches. Several calligraphy works are also part of the collections, which cover almost all creation types of Mr. Wu.
Finger Paintings
We collected three celebrity portraits: Finger Portrait of Lu Xun, Sun Yat-sen in Southeast Asia and Portrait of Wang Anshi.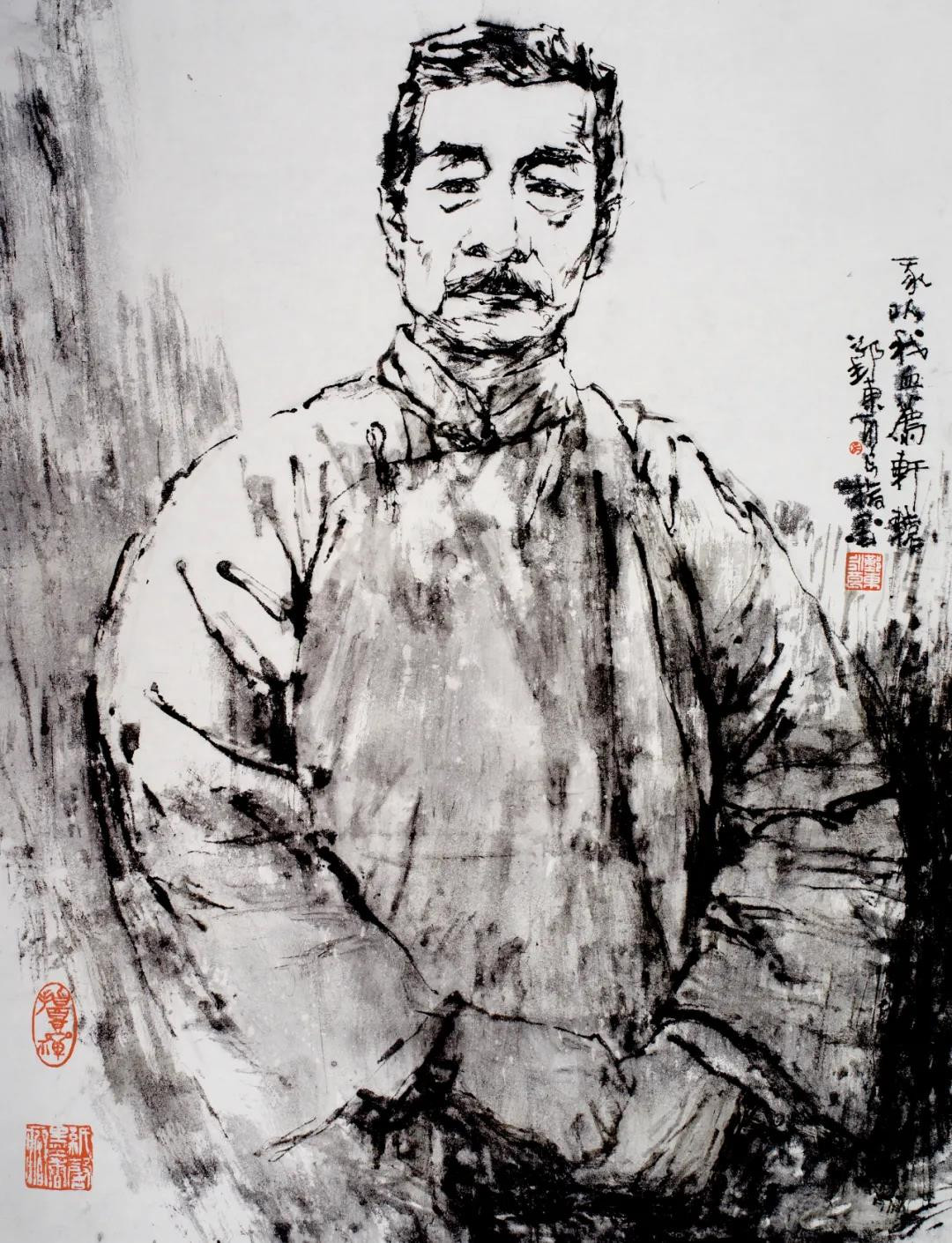 Finger Portrait of Lu Xun, 91×70cm, Chinese painting, 2015
Finger Portrait of Lu Xun is a finger drawing masterpiece which Mr. Wu was specialized in. Finger painting is a special painting category of Chinese paintings where artists use their fingers instead of brushes. When artists paint, they dip fingertips or nails with ink or color pigments to paint on paper or silk. Sometimes, they would paint with their palms to create the image. Finger painting is good to create freehand and general pictures.
Lu Xun is a famous revolutionist, whose great thinking and noble spirit always attract artists' attention. For instance, Mr. Wu painted several portraits of Lu Xun. In this painting, Wu expertly deployed finger drawing techniques to highlight the tough and tenacious spirit of Lu Xun, making is closer to the character's temperament compared with ink paintings.
Children's Portraits
Interesting children's portraits are also the theme which Mr. Wu loved. He believed that "innocence is one of the most precious part of human hearts and one that triggers memories of times with fantasies constantly. Therefore, the beauty of innocent and naïve children are naturally the permanent topic for art. And I hope to evoke people's emotions and conscience with them."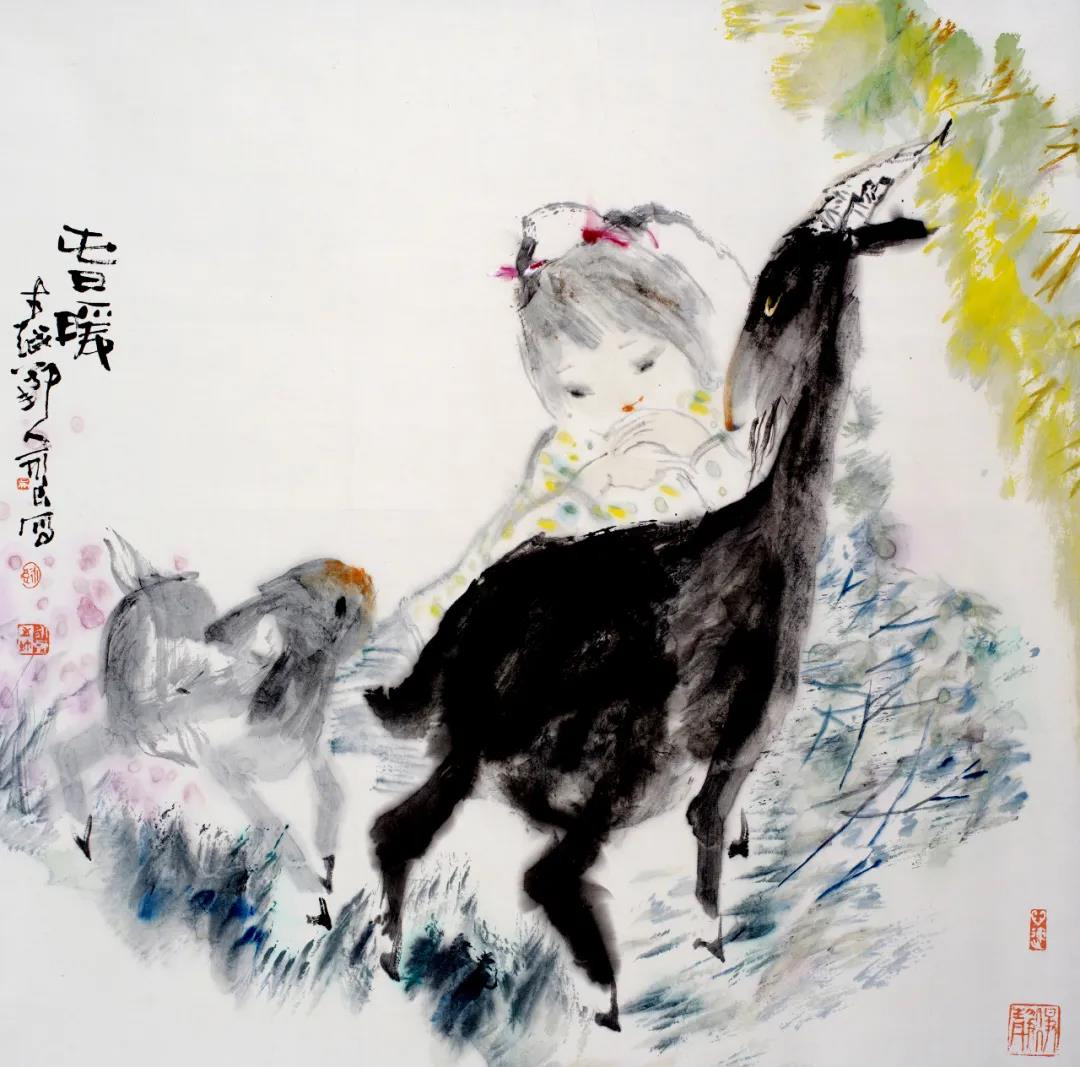 Warm Spring, 68×68cm, Chinese painting, 2000
Autumn Dream, 68×45cm, Chinese painting, 2007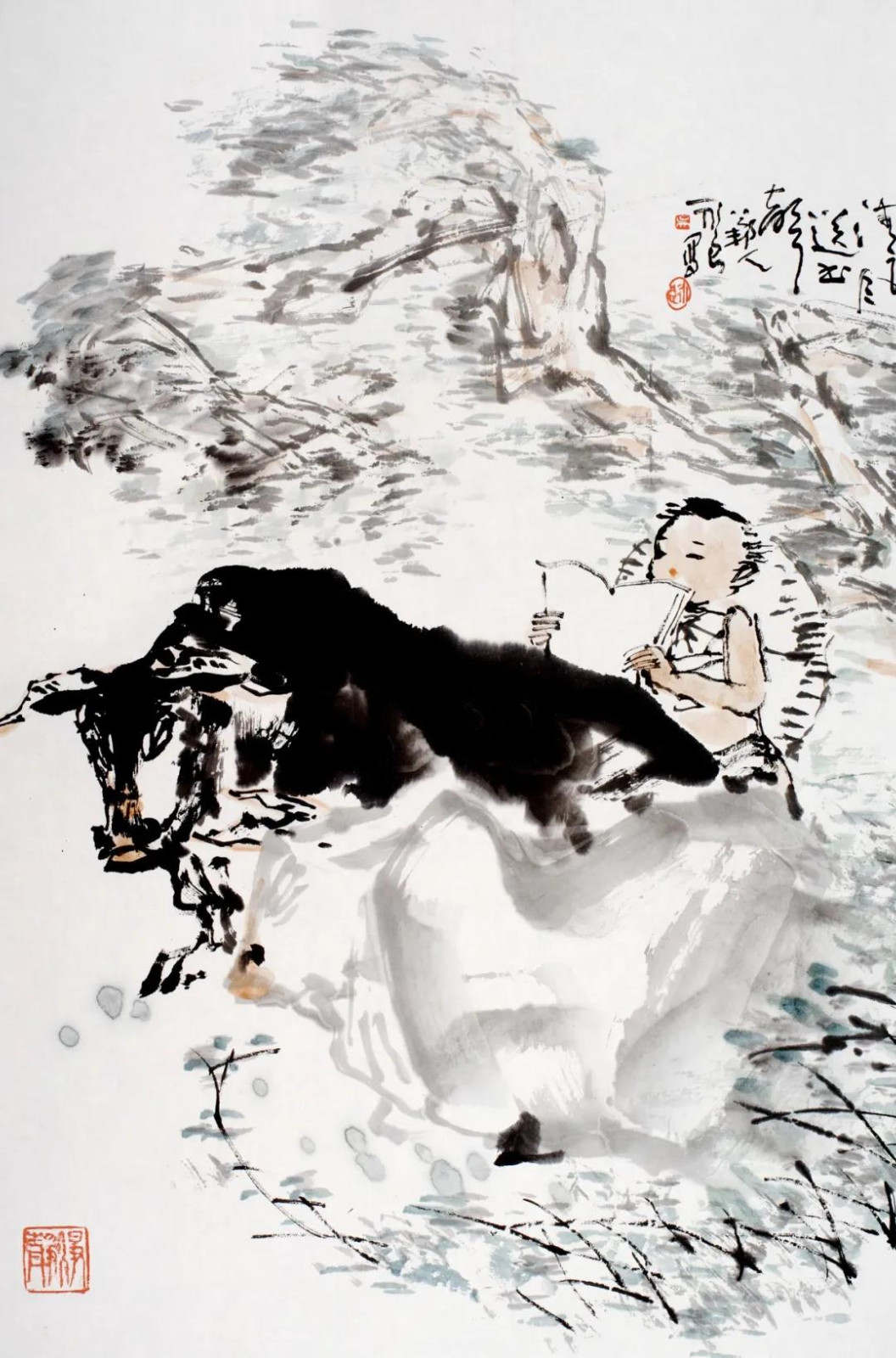 Sound of Reading in Breeze, 68×45cm, Chinese painting, 2001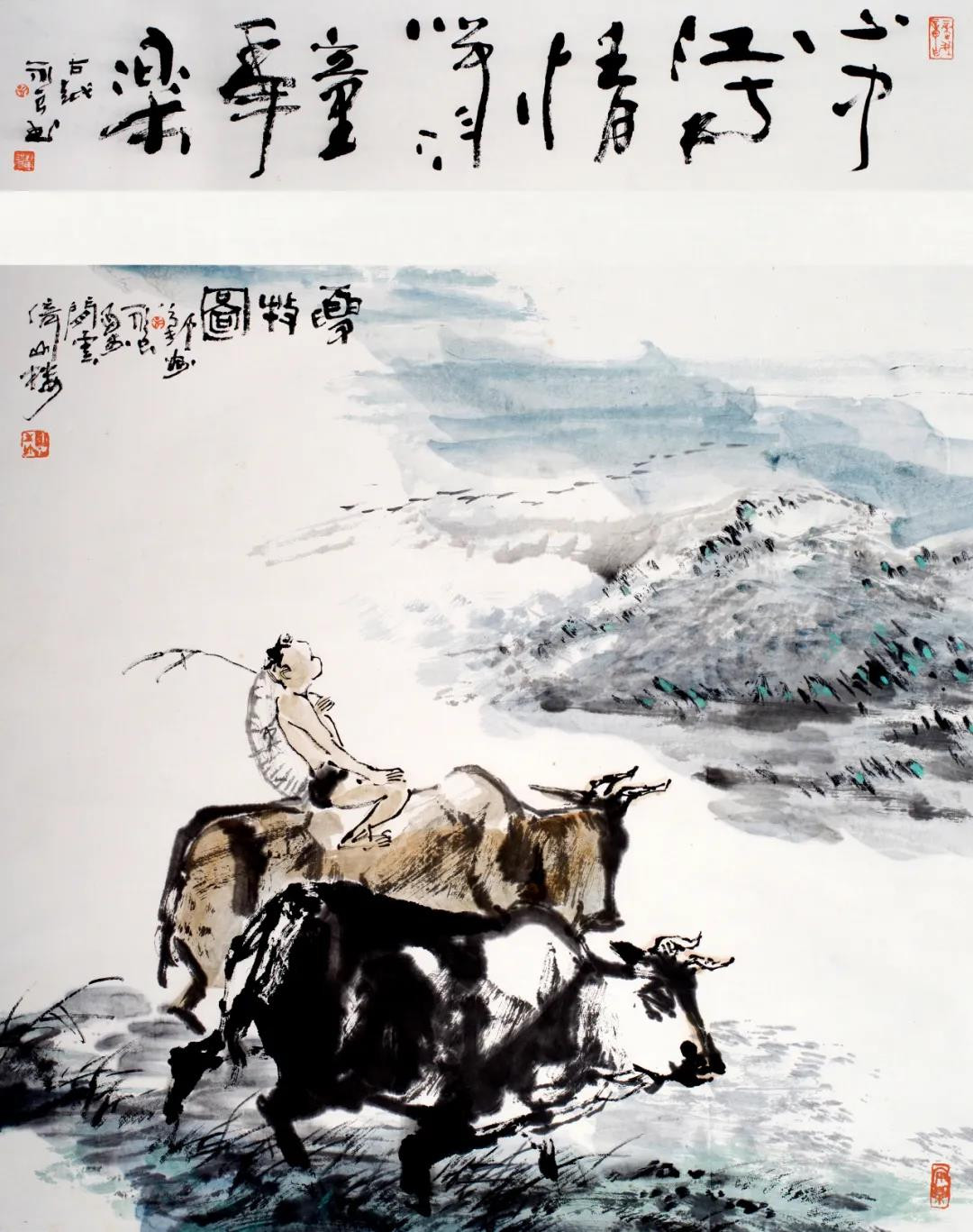 Summer Grazing, 68×68cm, Chinese painting, 2006
Paintings of Poems
We collected 8 paintings of this series, accounting for 22% of the total collection. Mr. Wu loved ancient Chinese literature. He once delved into the poems of Tang and Song dynasties and Yuan verses.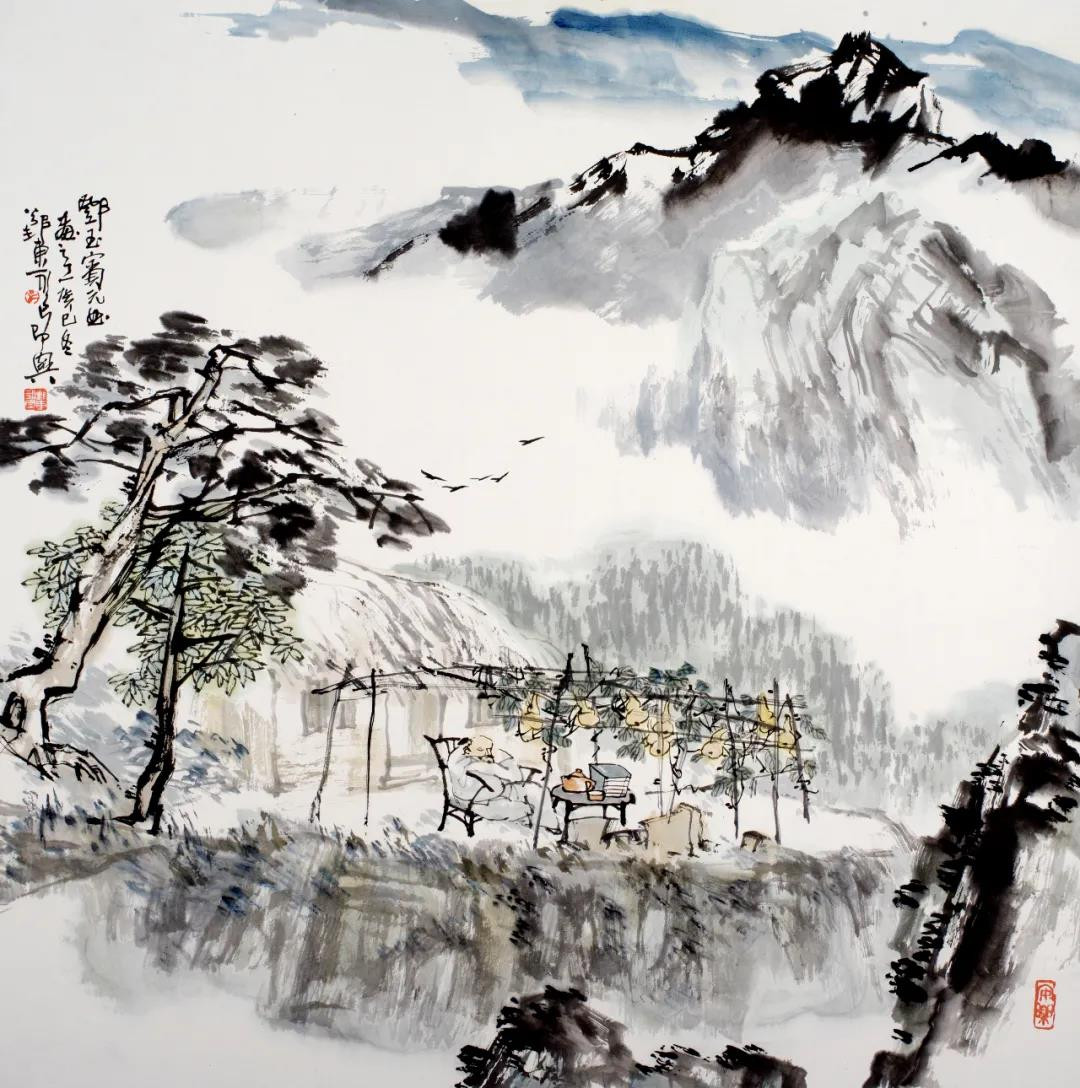 Painting about Deng Yubin Yuan Verses, 68×68cm, Chinese painting, 2013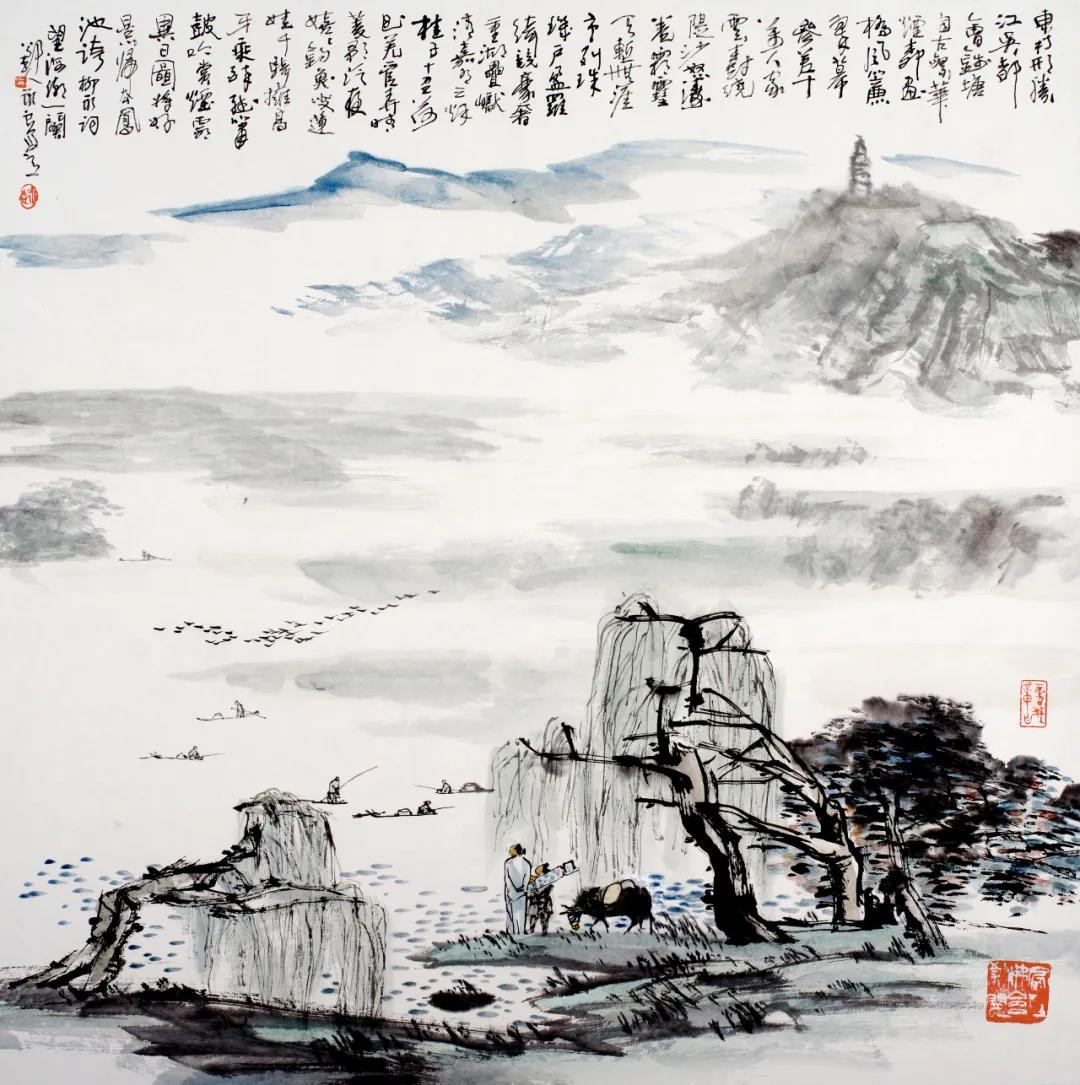 Painting about Liu Yong Poems, 68×68cm, Chinese painting, 2013
Painting about Xin Qiji Poems, 68×68cm, Chinese painting, 1997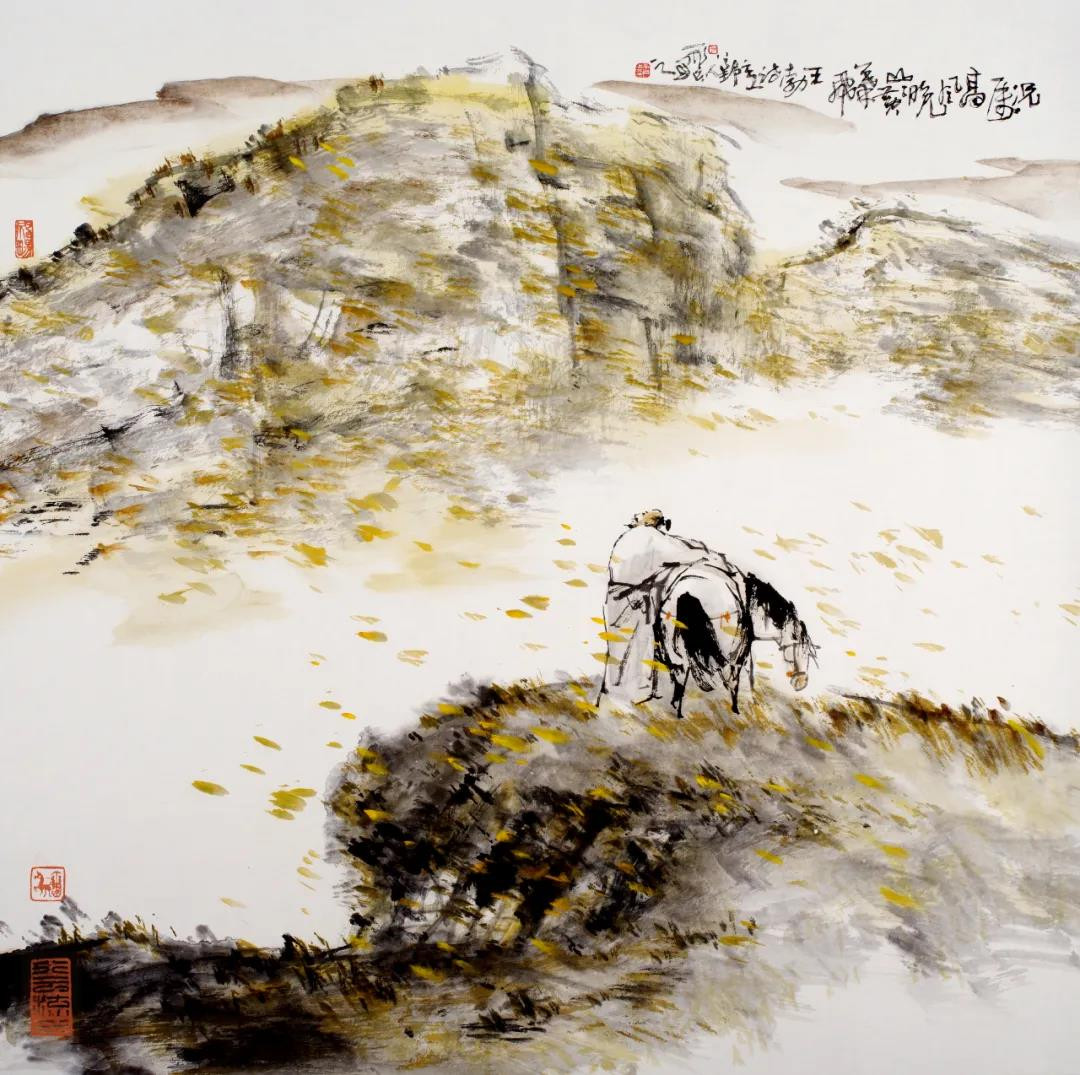 Painting about Wang Bo Poems, Chiense painting, 1999
Sketching
Sketching is an effective way to cultivate artists' capability of observation and quick expression. It is also an expression mean favored by Mr. Wu in his over 60 years' art life. And he enjoyed it. Mr. Wu used pencils, charcoal crayons and brushes to do the sketches. Pencils and charcoal pencils are commonly used in western paintings, while using brush to sketch is rarely seen. It is also the innovation of Mr. Wu in Chinese freehand figure paintings.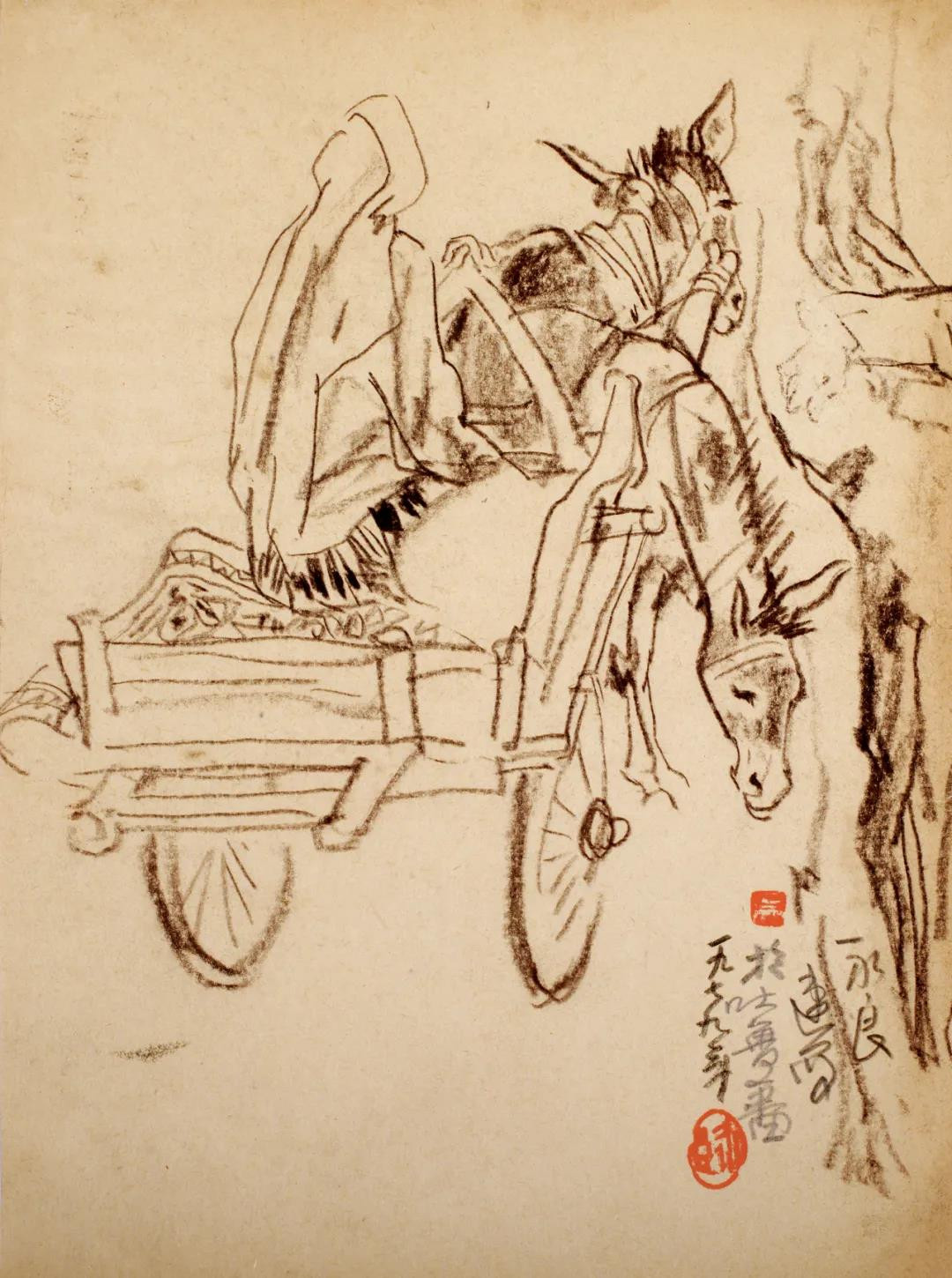 Go to the Market, 25×18cm, sketch, 1979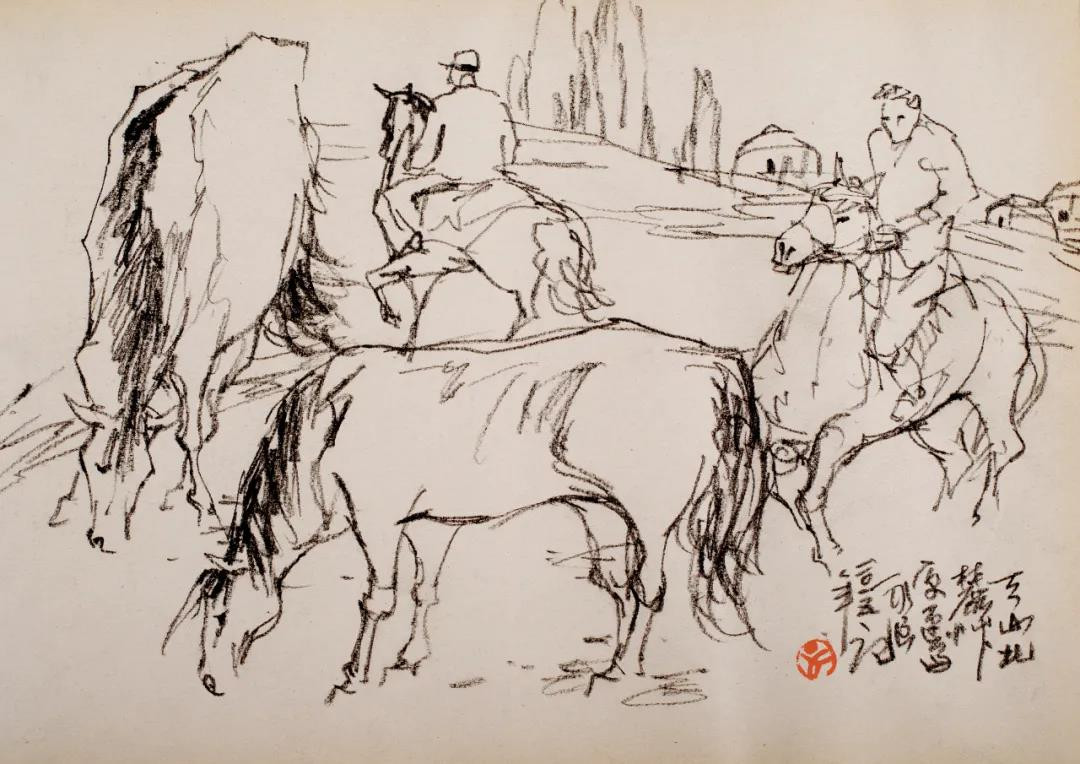 Horse Riding on Grassland, 18×25cm, sketch, 2015
Figure line drawings were created by Mr. Wu with the combination of western scientific modeling and unique line art languages in Chinese paintings. He made good use of the strengths of western and Chinese art, and integrated them into Chinese figure painting education. Wu created the Chinese figure line drawing course at China Academy of Art, which has become a major course of students in Chinese figure painting major. There are five figure line paintings among our collection.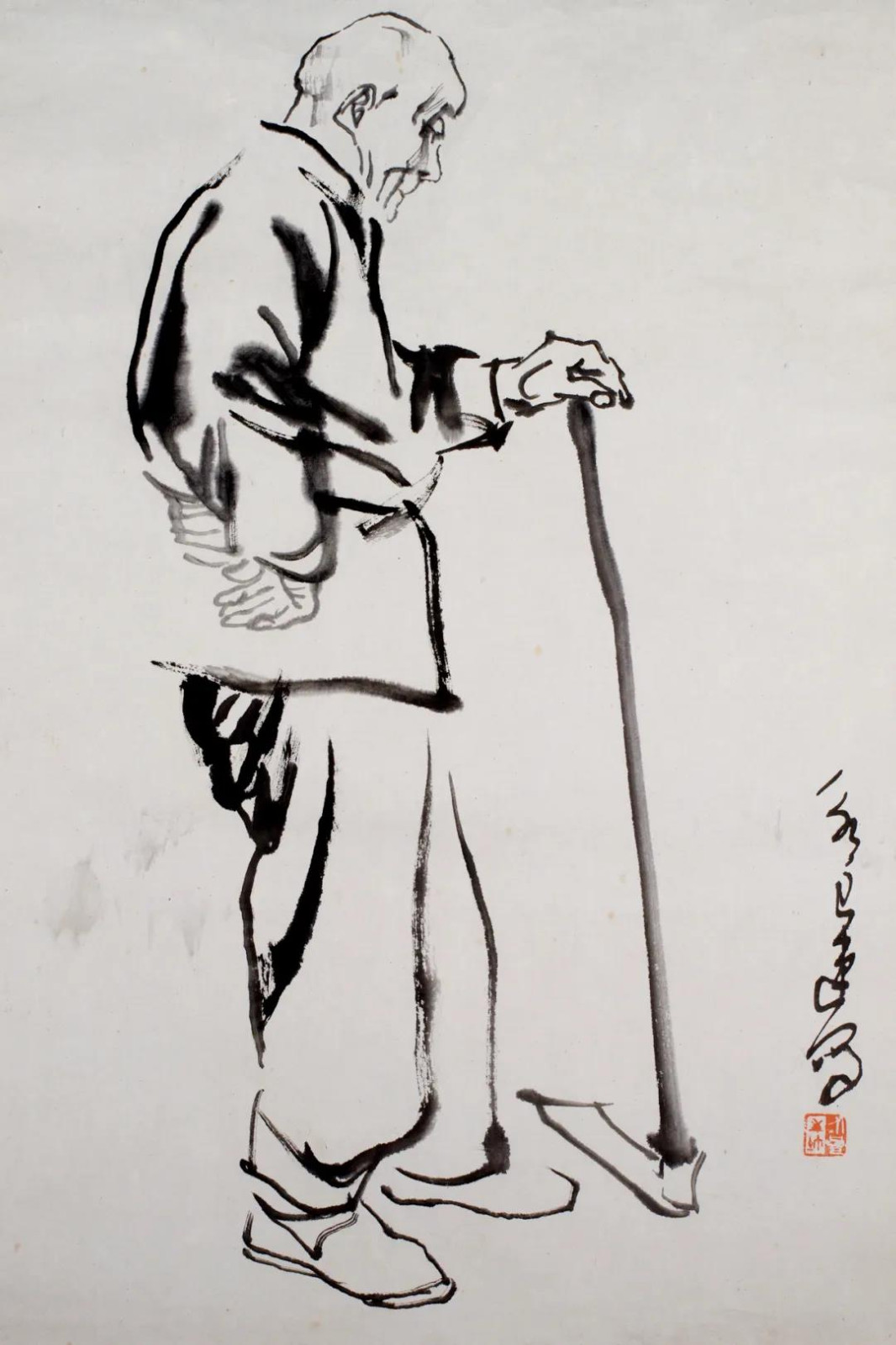 Old Farmer with the Hoe, 68×45cm, Chinese painting, 1984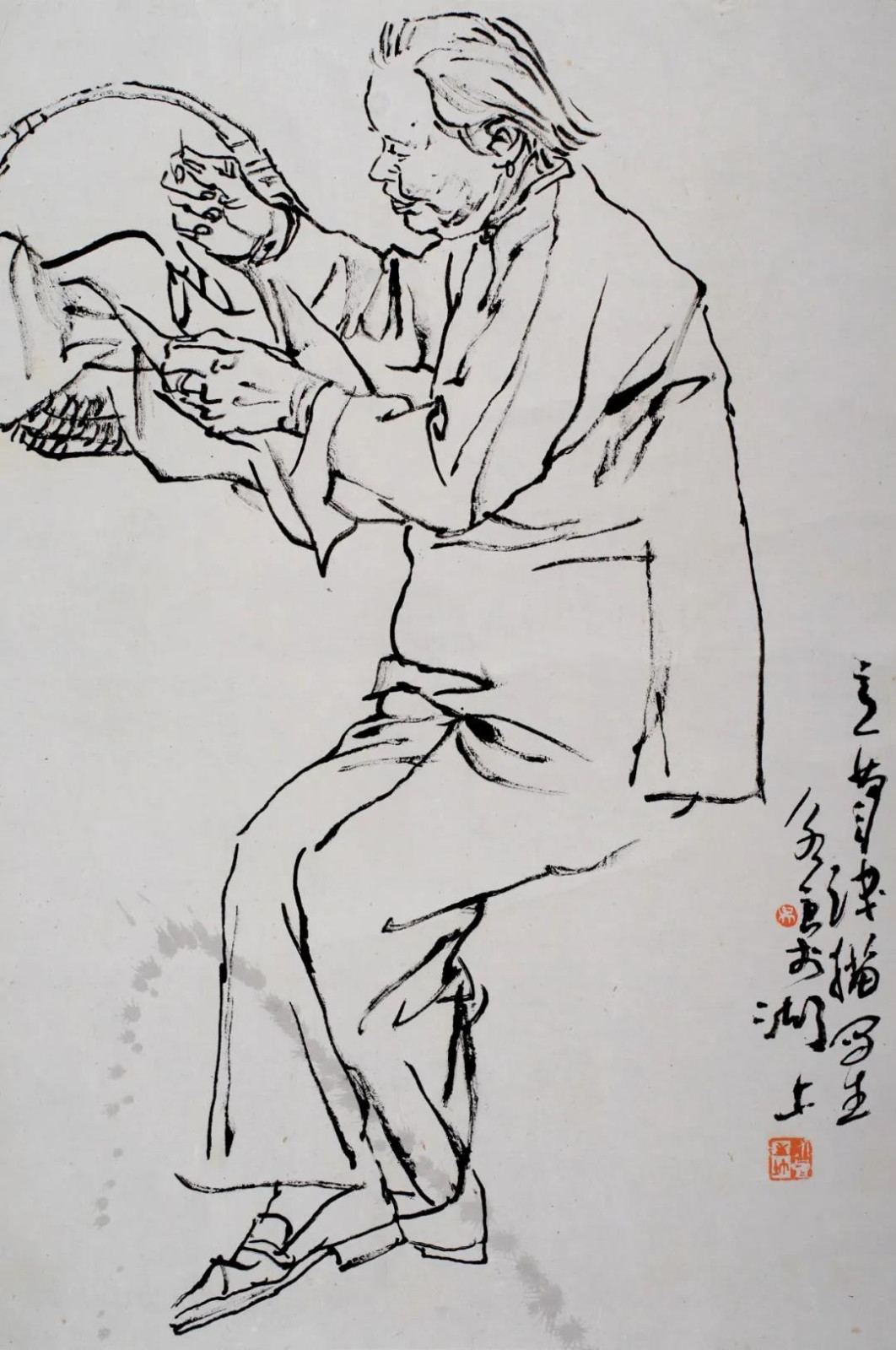 Thread in the Hand of a Loving Mother, 68×45cm, Chinese painting, 1983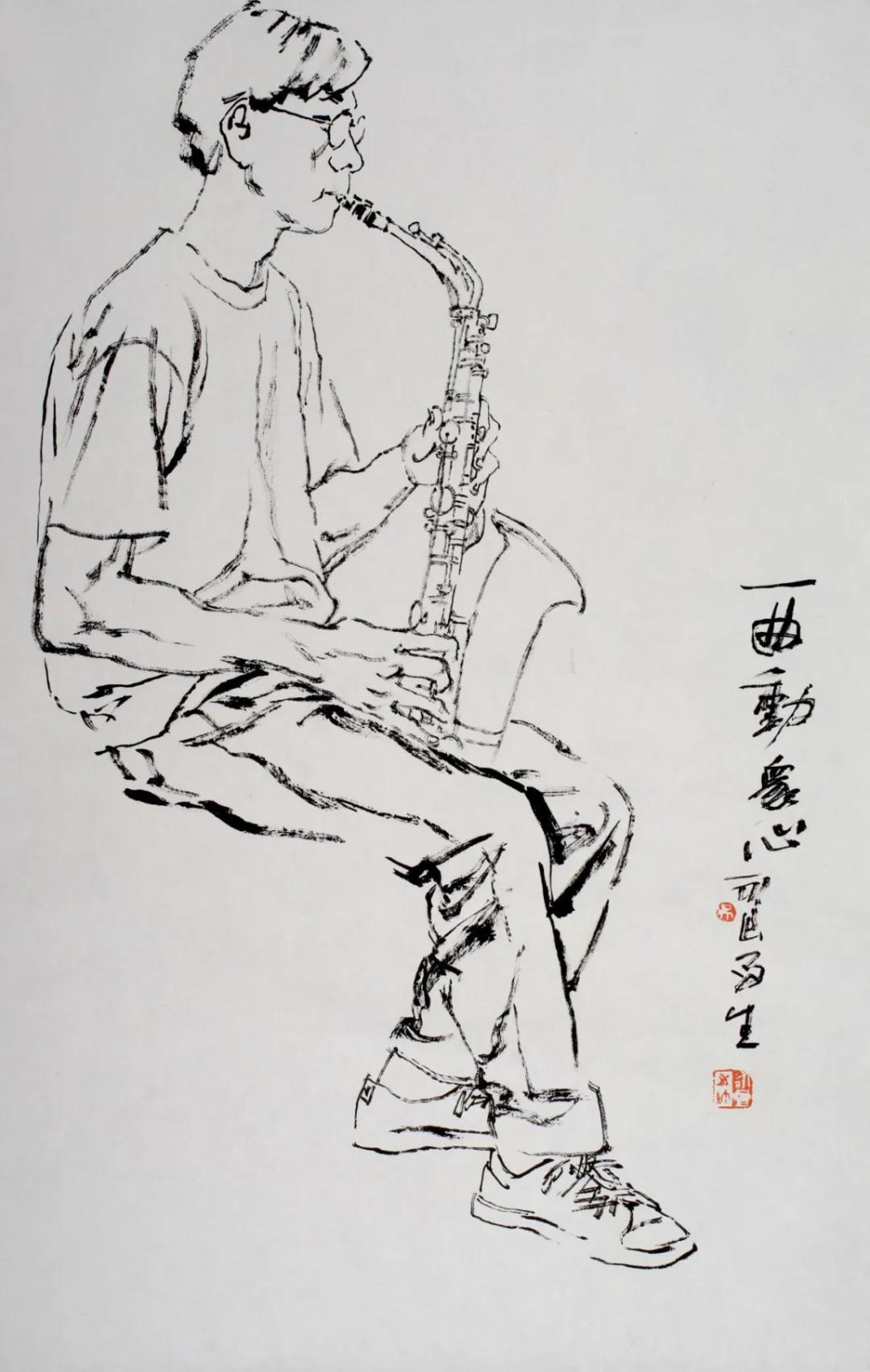 A Touching Song, 68×45cm, Chinese painting, 2002
Drawing by Heart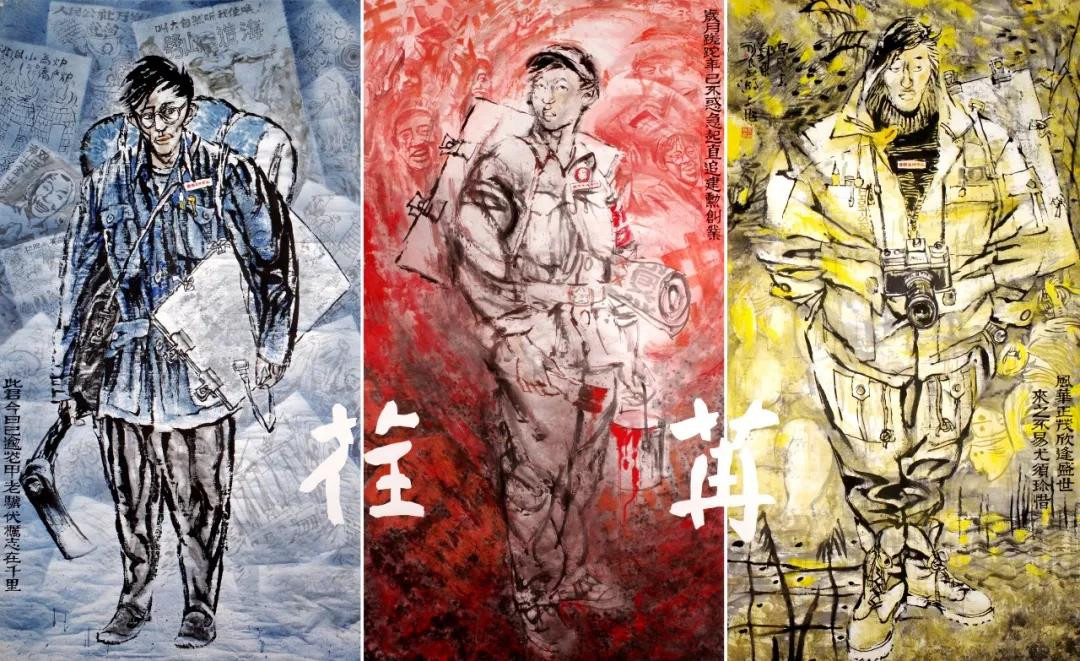 Time Flies, 196×294cm, Chinese painting, 1994
Time Flies is a masterpiece we cannot miss. Different from his previous works, Time Flies expresses the artist's respect and admiration of the characters. The theme comes from the artist's ties with China Academy of Art. The painting depicts three students of China Academy of Art in 1960s, 1970s and 1980s.
The Collection at NMA covers all forms of Mr. Wu's art. We could, through them, quickly and directly touch the artistic features of this famous artist in Zhe School. Moreover, we could also pry into Zhe School figure paintings.
We, however, all mourn the death of Mr. Wu in Ningbo. With this online exhibition, we wish to commemorate Mr. Wu and his art.
Notes:
Unauthorized reproduction is prohibited.
Unauthorized usage of NMA photos and pictures is prohibited.
Translated by: Fan Xinyi